Mobile apps are now required for small businesses to grow and succeed in today's digital landscape. According to recent data, mobile app usage has surged, with consumers spending 90% of their mobile time on apps. Furthermore, income from mobile apps is expected to reach $935 billion by 2023. These figures demonstrate the enormous opportunity for small businesses to enter the mobile app market and expand their customer reach and engagement.
The potential for mobile apps for small businesses is endless.
Here are a few instances of well-designed and well-implemented apps that have transformed the way small businesses operate:
E-commerce Apps: Internet-based companies can create mobile applications to give a streamlined shopping experience, highlight their products, provide personalized recommendations, and permit safe transactions.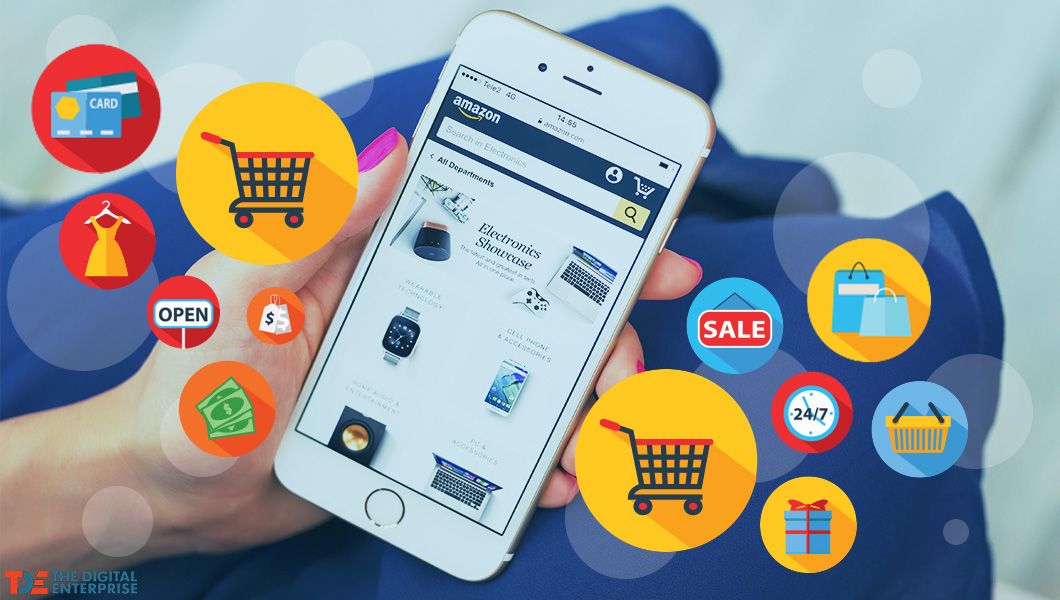 Food Delivery apps: Restaurants and food companies can use mobile applications to improve customer happiness and loyalty by providing quick ordering, delivery tracking, loyalty programs, and real-time updates.
Service Booking Apps: Salons, fitness centers, and home repair firms can design applications that allow for quick appointment scheduling, reminders, and personalized service offerings.
Loyalty Apps: Small businesses in a variety of industries can create loyalty apps to reward returning customers, provide exclusive discounts, and make personalized suggestions based on their preferences.
Educational Apps: Tutoring centers, language schools, and educational institutions can develop mobile apps that include interactive learning materials, quizzes, progress tracking, and remote learning options.
You can uncover multiple benefits by designing a mobile app targeted to your small business's specific needs, such as better client engagement, higher brand loyalty, improved operational efficiency, and a competitive edge in the market.
In this step-by-step guide, we will lead you through the process of creating a successful mobile app for your small business. We will give you some valuable insights and actionable suggestions to aid you on your app development journey, from defining your objectives and studying your target audience to picking the correct technology stack and optimizing your app for optimal visibility.
9 steps on how to develop a successful mobile app for your small business:
Define your Objectives:
To align with your business goals, clearly outline the objectives and purpose of your mobile app.

Example: Boost customer engagement, increase sales, and improve brand loyalty.
Research Your Target Audience:
Conduct extensive market research to better understand the tastes, needs, and behaviors of your target audience.

Examine competing apps for gaps and opportunities.

Example: 72% of consumers prefer apps that provide personalized content and recommendations.
User-Centric Design:
Create an intuitive and user-friendly design to enhance the overall user experience.

Concentrate on simple navigation, visually appealing interfaces, and user-friendly interactions.

Example: Airbnb's mobile app offers a seamless booking experience with stunning visuals and a straightforward user interface.
Choose the Right Technology:
Choose the best technology stack for your target platform (iOS or Android), performance needs, scalability, and security.

Collaborate with experienced developers to make informed decisions.

Example: Instagram's mobile app leverages robust backend technologies to handle high user engagement and seamless photo sharing.
Agile Development Approach:
A

dopt an agile development methodology for iterative and incremental app development.

Gather customer feedback during each development cycle to improve the features and functionalities of your app.

Example: Spotify's mobile app continuously adds new features and improvements based on user feedback, ensuring a personalized and seamless music streaming experience.
Seamless Integration:
Integrate your mobile app with existing systems such as CRM or payment gateways for a seamless user experience.

Ensure that data is sent and functions properly between the app and the backend services.

Example: Starbucks' mobile app seamlessly integrates with its loyalty program, allowing users to earn rewards and make payments directly from the app.
Rigorous Testing:
Conduct comprehensive testing to ensure your app functions flawlessly on different devices and platforms.

Perform functionality, usability, and security testing to ensure a dependable and high-performing app.

Example: WhatsApp's mobile app undergoes rigorous testing to provide secure messaging and real-time communication across various devices.
App Store Optimization (ASO):
Optimize your app's visibility and discoverability in app stores through strategic ASO techniques.

Conduct keyword research, write enticing descriptions, and encourage good user feedback.

Example: TikTok's mobile app gained popularity through effective ASO, leveraging trending keywords, and engaging app previews.
Continuous Improvement:
Maintain and update your app regularly to address user feedback, improve performance, and introduce new features.

Analyze app analytics to learn about user behavior and discover areas for improvement.

Example: Uber's mobile app consistently updates its features and user interface to provide a seamless and convenient ride-hailing experience.
Conclusion:
As mobile app usage and income continue to rise, small businesses must take the chance to establish their own mobile apps. Whether you're an e-commerce retailer, a food establishment, a service provider, or an educational institution, a well-designed mobile app can propel your small business to new heights of success.
Creating a successful small company mobile app takes careful planning, user-centric design, and constant optimization. You can design a successful mobile app that engages consumers, improves your brand, and drives business growth by following this step-by-step process and partnering with a professional software development company, such as MLP.
Are you ready to use a mobile app to improve your small business? Contact MLP to discuss your app development requirements and get started.